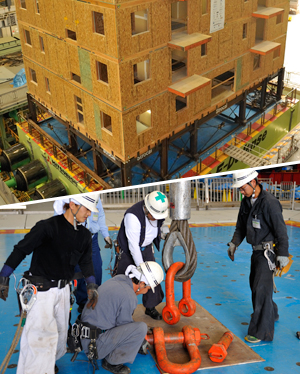 Industry Achievement Award — California Building Officials
In 2013, Simpson Strong-Tie was awarded the Industry Achievement Award by the California Building Officials. This organization is dedicated to promoting public health and safety in building construction through responsible legislation, education, and building code development.
NEESWood Capstone
In 2009, Simpson Strong-Tie civil engineers collaborated with academia on the NEESWood Capstone project in Japan, the world's largest earthquake shake table test.
A NEESWood research paper coauthored by Steven E. Pryor, Simpson Strong-Tie International Director of Building Systems, was awarded the Raymond C. Reese Research Prize by the American Society of Civil Engineers in 2011. As Steve noted, "The testing done in Japan shows that performance-based design for light-frame wood structures works. This will allow the engineering and building community to provide safer, better performing buildings in the most cost-effective manner."
Learn more about the NEESWood project.