Our products strengthen structures they are installed in, making them more able to resist natural forces like high winds and earthquakes. This improves the performance of a building during a natural disaster, and often helps save lives.
National Building Museum Exhibits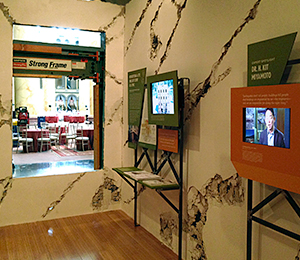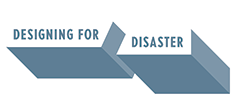 We partnered with the National Building Museum in Washington D.C. on an exhibit called Designing for Disaster. They wanted new and innovative ideas to help building designers when faced with disasters like wind, seismic, and fire.
The Wind Room features and compares three different Simpson Strong-Tie uplift systems: our strap system, Strong-Rod™ system and our innovative screw system.
The Museum also developed an Earthquake Room to showcase new technology or designs; this included our Strong Frame® special moment frame with Yield-Link™ structural fuses. Our special moment frame is set behind racked walls, giving visitors the opportunity to see how designers can use proprietary products like ours to save lives while strengthening the structure.
Designing for Disaster logo courtesy of the National Building Museum, Washington, DC.
---
The Solar House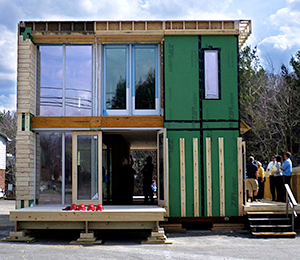 We welcomed the opportunity to be included in an innovative building project called Maison Reciprocity, as part of the 2014 Solar Decathlon Europe competition.
The international competition challenged 20 collegiate teams from 16 countries to design, build, and operate cost-effective, energy-efficient and attractive solar-powered houses. Team Reciprocité, a partnership between Appalachian State University in Boone, NC and Université d'Angers in Angers, France, wanted to reinvent modern living in row house neighborhoods by offering an answer to the lack of affordable, high-quality, sustainable and adaptable housing.
Simpson Strong-Tie worked closely with Team Réciprocité to help students build Maison Reciprocity, a solar-powered, sustainable multifamily housing building, constructed using virtually all Simpson Strong-Tie fasteners.
The structure had six modular units and was built using screws instead of nails to provide superior holding performance. We donated products and provided engineering support, fastener testing, product installation training and technical guidance. Maison Reciprocity took 9th place in the competition.

A number of our U.S. branches regularly support projects entered into the Solar Decathlon competitions.