We conduct safety audits at our manufacturing facilities around the world. These audits assist our plant, warehouse and test lab management in understanding their safety and health requirements, and focus on implementing systems to continually improve in these areas. Our facilities have varying processes, depending upon the regulations in that country and the programs that they have put in place.
Read more about our Company Quality Policy and standards, and our environmental ISO and OHSAS Certifications.
Safety Programs at our Manufacturing Facilities
North America
Brampton, Canada
Chandler, AZ
Columbus, OH
Eagan, MN
Gallatin, TN
Kent, WA
Maple Ridge, Canada
McKinney, TX
Riverside, CA
Stockton, CA

Our North American manufacturing facilities are all included in an annual external safety audit of Critical Components. These Critical Components are specific to Simpson Strong-Tie; they are grouped into general safety criteria and are based upon an understanding of the company's operations and expected exposures, regardless of regulatory compliance. The audits benchmark and track improvement to the safety process over the previous year, and provide input into integrating safety efforts into operations.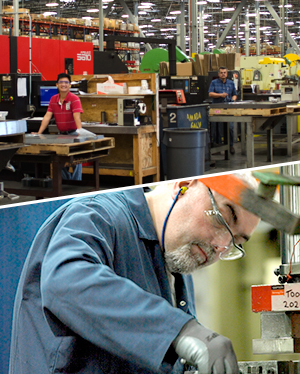 Bad Nauheim, Germany has a internal safety expert and an external safety engineer as required by German law. The branch is working on completion of their hazard/risk assessment for all working areas, which will be evaluated annually. German law also requires a safety committee, which meets quarterly to evaluate safety matters. The committee consists of the two safety engineers, a medical doctor assigned to the branch, the Branch Manager, Plant Manager, and a member of the German Works Council.
St. Gemme la Plaine, France has a Health and Safety committee elected by the employees. This committee audits the work areas every three months and presents its findings to the Branch Manager, Safety Manager, a Labor Inspector and an occupational physician. This results in an action plan to improve health and safety in the workplace. A list of workplace risks is maintained, which are reduced or eliminated by protective measures where possible. This is a continually improving process and is modified when a new workplace is created or new risks are detected. In addition, the branch undergoes an external safety audit annually.
Boulstrup, Denmark has a working group comprising seven Simpson Stong-Tie employees and one external consultant for environment, health and safety. They have a minimum of four meetings every year. Every three years a workplace assessment is done, with a few smaller assessments each year. They also conduct an annual review to discuss issues around environment, health and safety, as required by Danish law. In preparation for their ISO 14001 certification, the team has implemented an Environmental Management System at the facility.
Tamworth, UK operates certified management systems for Environmental Management (ISO 14001) and Occupational Health and Safety Management (BS OHSAS 18001). Four formal annual audits are performed by British Standards Institute (BSI) as part of this program. In addition, the facility performs an internal audit following the format defined by the external auditor of our U.S. sites.
Zhangjiagang, People's Republic of China conducts formal safety audits. The facility is audited by an external agency annually, and an internal audit is conducted every two years by our Manager of Environmental Health and Safety.
Seewen, Switzerland operations have been inspected and approved by the Labour Inspectorate of the Canton of Schwyz. External unannounced inspections may be performed at any time by the Federal Office of Safety. These are mandated by federal laws on the work conducted in Industry, Commerce and Trade, and Accident Insurance requirements, in accordance with the regulation on the prevention of accidents (SUVA/ASA).